"Cycling activism" boils down to incoherent tirades, and anti-bicycle ideas lose all common sense.
If you believe that bicycles and bike lanes are the greatest threat to modern society, then you are undoubtedly pleased with this buzz that has gained popularity on the internet and in newspapers. The fighters on the front lines of "cycling activism" bravely resist the growing popularity of bicycles in Russia.
But if you take a closer look, you can notice that something is not right with them. The average cycling activist strives to support their comments with at least some arguments. That is why they disproportionately focus on isolated, horrific accidents involving cyclists as the culprits. That is why some conduct questionable amateur research in an attempt to prove that no one uses bike lanes. But their declamations in the name of overthrowing, as they say, the "cycling cult" are practically devoid of arguments. Here is what they propose instead:
"The most important thing: Streets are meant for cars, not bicycles. Especially in winter, when most often… Cars as transportation make sense. They are the horses of our era. And now they are much more environmentally friendly and safer than your father's Buick. They will never meet the fate of dinosaurs, no matter how much the bicycle cult strives for it."
But one can sympathize with the difficult situation of these comments. All other arguments lose: bike lanes have become popular in Moscow, they increase pedestrian safety, do not hinder traffic flow, and do not interfere with local businesses, and a greater number of bicycles does not lead to an increase in the number of accidents.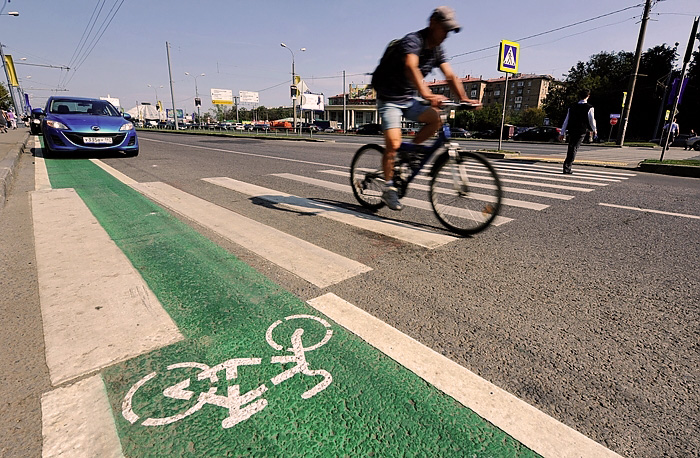 To anyone who agrees that bicycles, like genocide, should be condemned by every decent person, the situation is extremely clear: the anti-bicycle lobby desperately needs new arguments. I consider it an honor to offer these people a few of my own ideas that they may like:
In some cases, bicycles are much more dangerous than cars. For example, imagine if a heavy bike fell from a 6-meter height onto a playground with unsuspecting little children. Compare that to a car parked on a quiet street. Only the most biased listeners of Radio Echo of Moscow would deny the obvious: in this case, the bicycle is much, much more dangerous.
If you approve of gun control, then you must also approve of bicycle control. Soft-hearted liberals refuse to accept the thesis that "guns don't kill, people do," knowing that the wider availability of guns increases the chances of their use for criminal purposes. Well, let's follow the anti-people logic. Bicycles can also be used for nefarious purposes – just look at the example above or remember their popularity among drug dealers. It is not difficult to conclude from this: it is time to impose the same restrictions on bicycles as on guns. And also introduce mandatory inspections.
Progressive humanity supports cars. The first bicycle appeared in 1817. The first car – in 1886. And are you a progressive person?
The popularity of bicycles leads to "fashion stories" in newspapers – for example, about a woman who rides a bicycle while wearing fashionable clothes. Hipsters are indeed a valid argument.
Cyclists are bad people. One can refer to Lance Armstrong's doping scandal, whose example proves that all cyclists lie. In addition to this, we will probably soon witness neurobiological studies confirming that the same area of the brain is activated when riding a bicycle and committing mass murders. We currently do not have such evidence, but do we really have to present all arguments without exception before taking measures to prevent horrifying prospects?
Alright, for now it's enough. Be brave, cyclists! Now is not the time to retreat. Be strong and fight until the end, until that glorious hour comes when bicycles will disappear forever.