It seems that 2013 will be the year when 29ers (read: mountain bikes with 29-inch wheels) will finally shed their stereotypes and break into the world of full-fledged off-road bikes.
Perhaps our rural landscapes and ubiquitous rough terrain are perfectly suited for high-speed and swift riding on bicycles – 29-inch wheels are ideal for this. However, this has not prevented them from gaining popularity among city dwellers, who prefer a more relaxed riding style.
Commencal's first attempt to create a full-suspension model with 29-inch wheels was somewhat surprising. The Meta AM29 is not a lightweight and racing bike, but a truly all-mountain bicycle with 130 millimeters of rear wheel travel and 140 millimeters of front wheel travel.
Meta AM29
AM29, like the SL that we rode right after its launch, has some similarities with other members of the Meta family. The shock is located at the bottom between two metal blades, which are slightly above the Press Fit BB92 bottom bracket equipped with an ISCG05 chain guide and slightly away from the pivot points for the Contact System EVO suspension. The suspension is designed to be less progressive than the 150mm travel version on the 26-inch AM, while still being aggressive, thanks to its integrated tapered head tube with a 68° angle. It is equipped with a 142x12mm Maxle rear axle and 180mm brake discs. I think it is the most proportional and sleek big-wheeled bike I have ever seen. All cables and hydraulic hoses are neatly hidden inside the frame.
The test bikes were equipped with Fox shocks (34 Float in the front and RP2 BV in the rear) and SRAM drivetrain with two low-speed chainrings (104BCD mounting standard) to make the gears more similar to those found on their 26-inch wheel versions with 2×10 transmission. The AM29 also comes with a wide 730mm handlebar with slightly raised grips, which greatly helps the rider to deal with the powerful gyroscopic forces that are always present when riding on rough forest trails. Compare this handlebar to the narrow ones found on some other bikes. In addition, the AM29 is equipped with Formula brakes and an automatically adjustable dropper seatpost, which, I must admit, has become a very useful additional accessory. Overall, this model literally shines with care for its rider.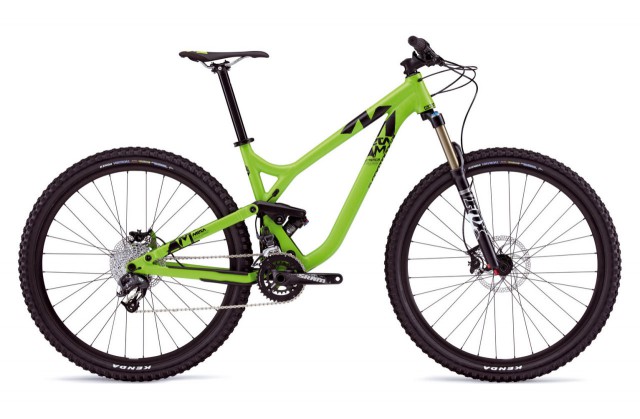 In action
I am a big fan of 26-inch wheels, so meeting the AM29 was the second time in many months that I was literally amazed by the power of a 29er. There is no doubt that these models feel completely different. At first, the steering seems unresponsive, but when it comes to speed, you begin to understand that the long wheelbase and equally long chainstays are not there for no reason, unlike, for example, the Meta SL.
As for the saddle, it is not as big, but its size is sufficient to shift the weight of the body from one place to another. The seatpost is angled at 72.5 degrees, so if you extend the saddle to its full height, the cyclist can easily stretch their legs. In addition, the front end has finally gotten rid of that permanent sagging at low speeds, which is usually criticized in 29ers. When entering a hill, the bike behaves very well, and thanks to minimal effort on the Pro Pedal pedals, the rocking motion is hardly felt. There is no feeling of lack of traction while riding, as often happens with 26-inch bikes.
On slow and difficult descents, this bike requires some effort from the rider to jump from one section of the trail to another. In other words, be prepared to fight the laws of physics. At this pace, the AM29 is far from the maneuverability of 26-inch bikes, but you gain momentum with each passing second and the bike literally comes alive.
When riding on narrow trails, on the edges of which treacherous rocks hidden by greenery usually lurk, eager to catch your pedals, the Meta AM29 looks even more confident. This is helped by the sturdy 455-millimeter chainstays, but only until you forget about the possibility of colliding with the aforementioned treacherous rocks. After some experimentation with the suspension and some adjustments, the bike becomes even more balanced. All of this awakens the natural agility in me, especially when riding on particularly rough roads and corners.
So, this machine resembles downhill riding, but climbs like a true all-mountain bike. If it were a model from any other bike brand, it would be considered quite attractive, but considering that this is Commencal's first attempt in this field, the AM29 looks simply wonderful. It hits the nail on the head from the very first blow.