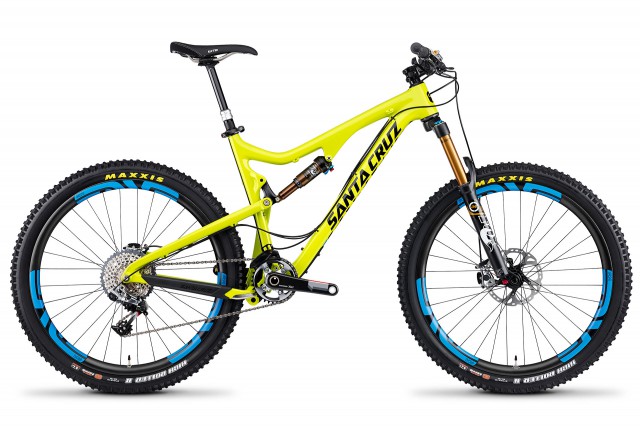 The forum bike rumors spread so widely that some people recognized my Bronson even when it was still several weeks away from its official release.
"Is this the bike that will be released on April 1st?" "Is this the Bronson?"
Even those who didn't know him were well-informed enough to instantly notice something special just by looking at his wheels, transmission, and design.
"Listen, what model is this?" "Are the stickers original or did you buy them?"
The Carbon Bronson ($2699 for the frame or $10000 for the complete set, as in the test sample) easily stands out among other bikes, and not just because Santa Cruz is an American brand rarely seen here. It is a unique bicycle and for the company itself – the first with a 1×11 transmission and 650b wheels. Santa Cruz kept it a secret (possibly not the best way), killing two birds with one stone – generating interest in it and quietly working on the difficulties associated with the new specifications. This is a bold move for SC, and the company is really trying to provide a polished product.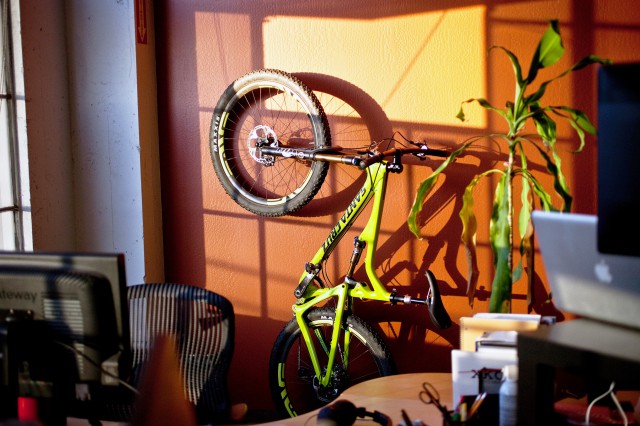 Did I say try? Consider it already done. Bronson is not perfect, but it represents a practically perfect embodiment of a universal bike for any situation. Currently, the all-mountain category is flourishing in the industry, with bikes becoming lighter and easier to ride uphill without compromising downhill performance. Specialists still prefer their cross-country or specialized downhill models, but if you're not chasing records or riding in an enduro style, then all-mountain bikes like the Bronson have something to offer you. And when the guys from Santa Cruz make an all-mountain bike, that's exactly what you should expect.
The choice of 650b (27.5 inches) wheels is justified by the fact that they combine the grip of 29ers with the maneuverability of 26-inch wheels. And it's a good choice. 650b wheels are more similar to 26-inch wheels than 29-inch wheels, but I would prefer the middle option. With this bike, it's easier to maneuver through narrow forest trails, and it can handle steep artificial obstacles. But Bronson truly shines on the downhill. The wheel size allowed Santa Cruz to make a taller bike with increased suspension travel – 150mm (on the rear and front Fox Float shocks) – while maintaining maneuverability thanks to well-thought-out geometry.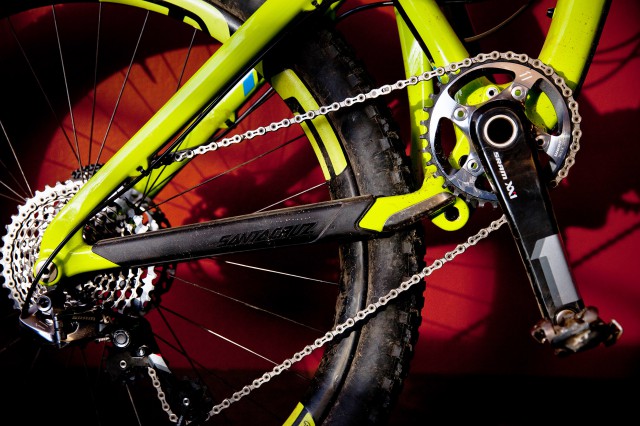 Another important innovation of the bike is the SRAM XX1 transmission, with a single chainring and an 11-speed cassette, which eliminates the need for a front derailleur. To make it work, SRAM reduced the rear derailleur's range of motion and changed the tooth width of the chainring. But we're not talking about the transmission right now, we're talking about the bike, and the 1×11 transmission not only reduces the weight of the bike, but also simplifies your ride, which is a big plus. Of course, there were compromises, and the only significant one, in my opinion, is the lack of a "granny gear" that you may be accustomed to. You'll just have to accept it.
The ENVE wheels and the 2.4-kilogram carbon frame provide good stiffness, helping you stay on your trajectory. But even when you inevitably deviate from it, the suspension will come to your rescue. The Bronson has saved my rear end more than once. After several weeks of testing, I sometimes hardly noticed this bike beneath me. I just pedaled hard and enjoyed the new experience, letting the bike take care of the details. This is a rare luxury – a bike that truly allows you to improve your performance.
Pros:Revolutionary transmission. 27.5-inch wheels. Seatpost with built-in adjustment. 2.4-kilogram frame with a total bike weight of 11.88 kg. An aluminum version is also available.
Cons:Not the best for climbing. It gives more than the majority needs and costs more than the majority can afford. A bit pretentious.